SINGAPORE EXPATS FORUM

Singapore Expat Forum and Message Board for Expats in Singapore & Expatriates Relocating to Singapore
Moderator

Posts: 35391
Joined: Thu, 11 Nov 2004
Location: Still Fishing!
Contact:
You never worked in NE Washington DC during the time when they tried to burn down Washington, then. I did. And while you cannot have a carry permit today in DC, back in the 70's when I was the District Director for H&R Block I had 23 offices to collect receipts from, of which about half were in the NE. I, obviously, no longer have a carry permit.

But I do eat, and prefer to eat wild game. I keep venison, duck & goose in the big chest type freezer year around. And, if I can bag a wild turkey in season, he'll be there till thanksgiving. I never owned a pea shooter. My first gun was a 16 Guage Mossberg, which I still have today. I shot my first deer with that gun and it is still my favourite gun to go tromping through the woods with as it's been stock shortened so as to fit my short frame, and barrel shortened to hold a poly-choke. With the exception of a .410 it's the smallest shotgun in my arsenal. Rifles range from .223 to .50 and pistols range from .32 to .45 (My Army Colt). Do I use them all? Nah. But over the years you pick up the odd one or matched pair (.50 Patch & Ball Black Powder flintlocks with octogon barrels).

Guns are also like art. Not all art appeals to everybody. All mine stay locked up in a strongroom with the exception of the Flintlocks which stay on the wall in the hall and a .38 pistol which my Mom keeps under her seat cushion in the kitchen where she spends most of her time. (She caretakes the place and lives there by herself - she's 86 and she also knows how to use it).
---
---
Moderator

Posts: 35391
Joined: Thu, 11 Nov 2004
Location: Still Fishing!
Contact:
I've only ever shot one person. (I never shot anybody during the war as I was a chopper pilot flying observation) That was in a Holiday Inn in my home town about a year after getting my discharge from the Army. (almost decapitated him). Otherwise, I am a law abiding citizen and have had considerable firearms experience and training. As noted, I don't mind more stringent regulations to vet ownership, but you can have MY guns when you pry them from my cold dead fingers.
---
Moderator

Posts: 8333
Joined: Tue, 01 Sep 2009
Location: Sister Margaret's School for Wayward Children
Contact:
Every time the American gun debate comes up, this always comes to mind: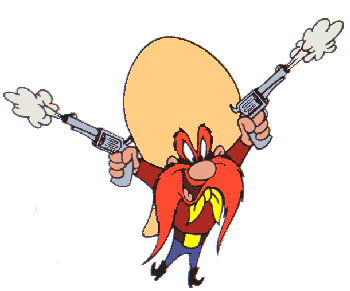 ---
---
---
---
Similar Topics

Replies
Views

Last post
Return to "Leisure Chat, Jokes, Rubbish"
Users browsing this forum: No registered users and 0 guests