SINGAPORE EXPATS FORUM

Singapore Expat Forum and Message Board for Expats in Singapore & Expatriates Relocating to Singapore
Moderator

Posts: 11305
Joined: Sat, 10 Jul 2004
Location: Off The Red Dot
Contact:
I have been a New Warrior and a member of the ManKind Project for more than 10 years. The ManKind project is a non-hierarchical,
non-political, non-religious organisation that offers a man the opportunity to stop the clock, climb to a high vantage point, reset his heading,
and engage life with renewed clarity, insight, and energy.
The open house will be held at the American Club, Colonial Room, on Monday, September 24, beginning at 7 PM. We will talk about the ManKind Project's flagship weekend retreat, the New Warrior Training Adventure, now held in eight countries, and the experiences of the men who did it.
There is no hard sell, no obligation, and no pressure to sign up; just an opportunity to learn more about the ManKind Project. Men who have done the weekend will describe their experience at the weekend, how life has been for them afterwards, and answer any questions you may have. Refreshments and finger food will be served.
Please do consider coming and bring your wife/special other. If you need more information, please contact me, or the email address on the attached brochure. If you can make it, it would be great if you could let me know.
Many thanks to all.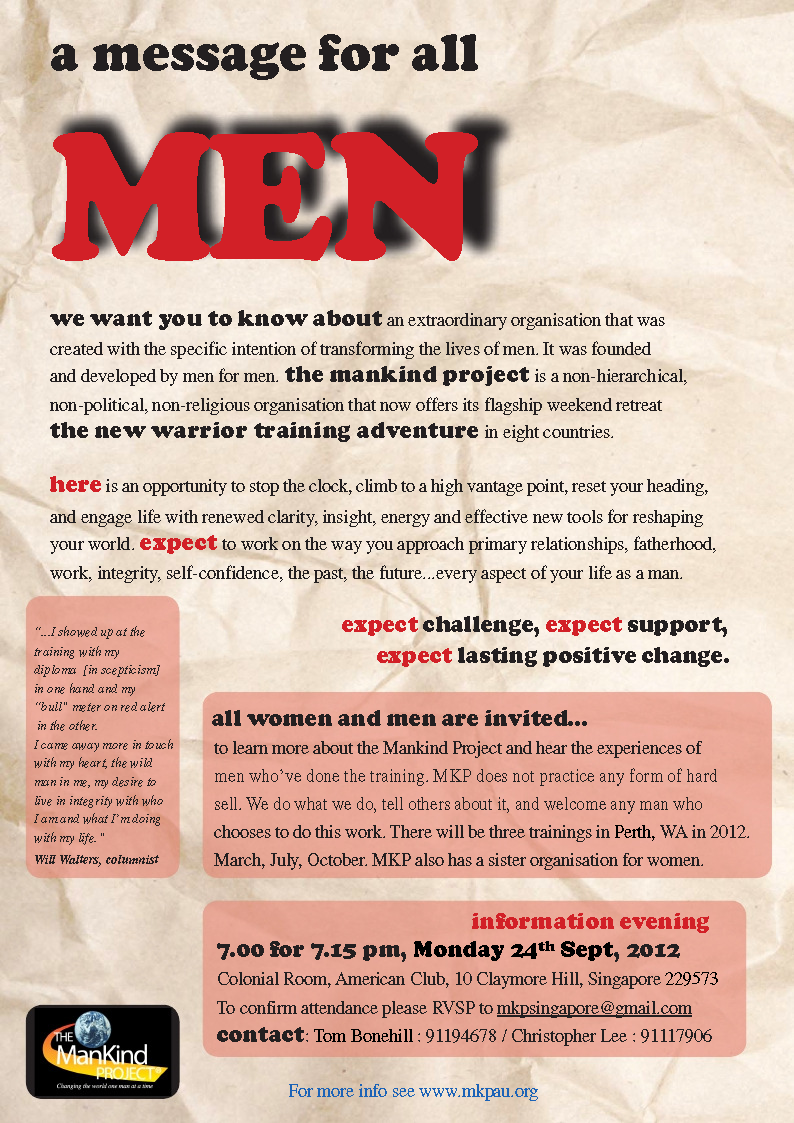 ---
---
---
Hi SE,

I'm interested to attend on Monday - can you give an indication on how long the session will go.

I have an overseas conf call at 8pm for 30mins, so will just need to slip out to take the call if the session is not wrapped up by then.

Thanks,
---
---
Similar Topics

Replies
Views

Last post
Return to "Events, Gatherings, Making Friends"
Users browsing this forum: No registered users and 0 guests