SINGAPORE EXPATS FORUM

Singapore Expat Forum and Message Board for Expats in Singapore & Expatriates Relocating to Singapore
Moderator

Posts: 11110
Joined: Sat, 10 Jul 2004
Location: Off The Red Dot
Contact:
---
Moderator

Posts: 8333
Joined: Tue, 01 Sep 2009
Location: Sister Margaret's School for Wayward Children
Contact:
Yay for its supporters. Natch for the "it's not a mandate, it's a tax" bit.
Boo for its detractors. Can't wait to see how Fox News spins this.
Meanwhile: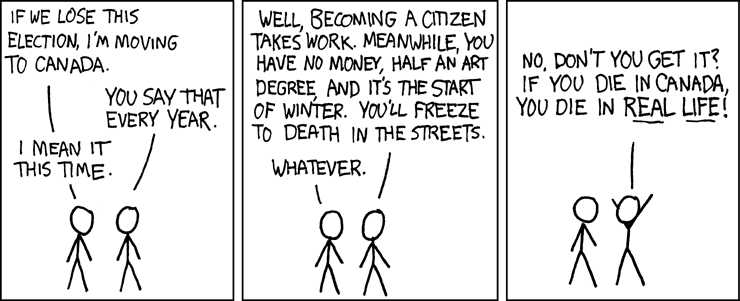 ---
Strong Eagle wrote:Good news for those of us that believe in universal healthcare.

I don't know if it's good news. The bill is a gargantuan overly complex mess of red-tape that panders more to the current healthcare lobby than it helps those actually in need. Like the tax code, the whole health care system needs to be scrapped and rebuilt. This doesn't so that, but just tosses layers of complexities on top the current one. I'm happy if it helps people that need it, but wish it could have been done better.
---
Moderator

Posts: 8333
Joined: Tue, 01 Sep 2009
Location: Sister Margaret's School for Wayward Children
Contact:
---
---
Similar Topics

Replies
Views

Last post
Return to "General Discussions"
Users browsing this forum: No registered users and 3 guests