SINGAPORE EXPATS FORUM

Singapore Expat Forum and Message Board for Expats in Singapore & Expatriates Relocating to Singapore
Avis Rent A Car System and its subsidiaries operate one of the world's best-known car rental brands providing business and leisure customer with a wide range of services at over 5,100 locations in Europe, Africa, the Middle East, Asia, the United States, Canada, Australia, New Zealand and the Latin American/Caribbean region. Avis has a long history of innovation in the car rental industry and is one of the world's top brands for customer loyalty. Avis is owned by Avis Budget Group, Inc. (NASDAQ: CAR), which operates and licenses the brand throughout the world.
Avis opened its first location in Singapore in 1972 and operates the Avis brand throughout a network of five locations, including two city offices at 390A Havelock Road, #01-07 Waterfront Plaza, Singapore 169664; and 6 Raffles Boulevard #01-101D Marina Square Shopping Mall; and three airport locations: Changi International Airport Terminal 1, Terminal 2 and Terminal 3.
In Asia, Avis is a leading provider of vehicle rental; vehicle leasing and limousine/chauffeur drive services operating over 330 locations through a network of wholly owned subsidiaries, joint ventures and licensee agreements in 22 markets. Avis opened its first operations in Asia in 1970 in Hong Kong. Throughout the 70�s Avis grew steadily in the region, with operations launched in Singapore, the Philippines, Pakistan, Malaysia and Indonesia. More recently, developments have included openings in India, China, Taiwan and Vietnam.
Today, Avis Singapore offers its customers a wide range of local and international mobility services combined with the "We Try Harder" (patented slogan) service and quality levels.
Avis Bukit Timah
895 Bukit Timah Road
Singapore 589616
Mon - Fri: 10.00 - 18.00
Closed: Sunday & Public Holidays
1800 737 1668
www.avis.com.sg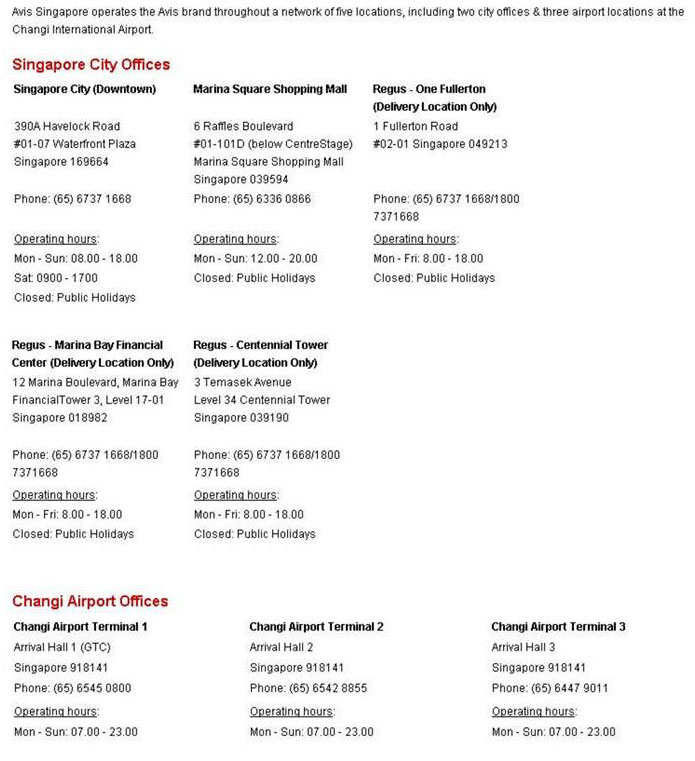 ---
Similar Topics

Replies
Views

Last post
Return to "Cars & Motorcycles"
Users browsing this forum: No registered users and 1 guest