Hi
I saw a poster in Singapore that uses photos of Queen Elizabeth II to promote a face mask beauty treatment!
The 2m high poster, from Mask Skin Care, is in the lobby of Wheelock place on Orchard Road. It shows two photos of Her Majesty Queen Elizabeth II - purportedly 'before' and 'after' using that company's Anti Ageing Facial. Here's a photo I took of it.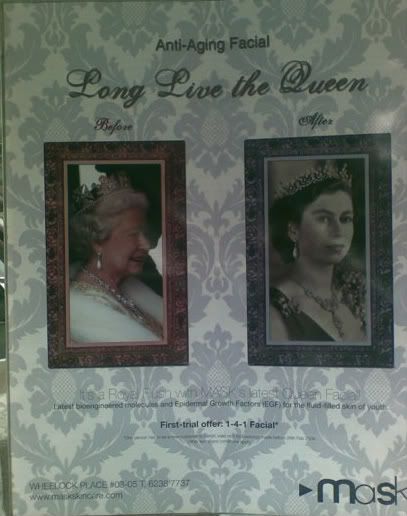 I really think it's wrong (as well as breaking the Singapore advertising code.) And in case I'm sounding like Colonel Blimp, I should say that I'm not patriotic to extremes or overly royalist, but I was annoyed about this. I'd be interested to hear what others think. Am I over-reacting?
If you are as irritated as I am, you may want to contact the Advertising Standards Authority of Singapore
http://www.case.org.sg/asasintroduction.php
Mask Skincare are at
http://www.maskskincare.com/locations.html