SINGAPORE EXPATS FORUM

Singapore Expat Forum and Message Board for Expats in Singapore & Expatriates Relocating to Singapore
Hi
I saw a poster in Singapore that uses photos of Queen Elizabeth II to promote a face mask beauty treatment!
The 2m high poster, from Mask Skin Care, is in the lobby of Wheelock place on Orchard Road. It shows two photos of Her Majesty Queen Elizabeth II - purportedly 'before' and 'after' using that company's Anti Ageing Facial. Here's a photo I took of it.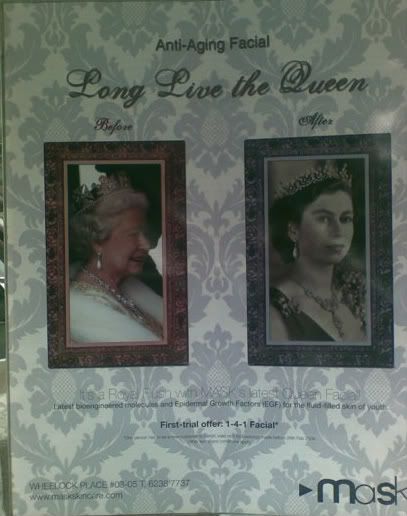 I really think it's wrong (as well as breaking the Singapore advertising code.) And in case I'm sounding like Colonel Blimp, I should say that I'm not patriotic to extremes or overly royalist, but I was annoyed about this. I'd be interested to hear what others think. Am I over-reacting?
If you are as irritated as I am, you may want to contact the Advertising Standards Authority of Singapore
http://www.case.org.sg/asasintroduction.php
Mask Skincare are at
http://www.maskskincare.com/locations.html
---
Moderator

Posts: 35509
Joined: Thu, 11 Nov 2004
Location: Still Fishing!
Contact:
As a Yank, and having to put up with the bashing of our leaders world wide all the time (not saying here that they don't deserve it!
) I think anybody who takes offense is living in the past. With what the royal offspring have put her through, I would think that she wouldn't mind having something that could turn back the ravages of time. Is there any difference with this than a political cartoonist having a go in an international newspaper? At least they used two proper photos and didn't use photoshop to create a computerized renewing of the initial picture.
Granted it is in rather bad taste but again, you must consider where you are.
---
Editor

Posts: 1293
Joined: Sat, 06 Oct 2007
It's a lazy, bad, out-dated, out-moded ad. Say what you want about the queen, the woman has beautiful skin. To put her current picture up as the 'before' picture is about as sensitive and culturally-aware as the slimming centers using someone's pregnancy picture the same way. It shows their ignorance and their immaturity.

Stupid doesn't know boundaries, this ad would be bad anywhere. Is it insensitive? A bit, but that's overshadowed by it's perpetuation of the youth culture.
---
Quite honestly the poster looks like nothing more than two over sized postage stamps and I doubt if the Queen would be in the least bit bothered (not many Singaporeans will have seen the Spitting Images caricatures of the Queen and many other public figures).
http://members.madasafish.com/~openbanana/puppets/page15.htm
---
sundaymorningstaple wrote:...it is in rather bad taste but again, you must consider where you are.
Thanks for all replies - yes perhaps I was forgetting where I was.
Don't know why I found the poster offensive but not Spitting Image - maybe it was because I found Spitting Image clever and witty.
Anyway, went shopping at the weekend and the poster had been replaced.
Cheers
---
An insult to the Monarchy? For goodness sake . . . thank your lucky stars that your Monarchy doesn't hang people for this 'offence' anymore. Check out how many people are in Thai jail for pathetic trumped-up charges of lese-majeste and you can see what perversions so-called patriotism brings to the fore.
Would you also ask for these guys to have been thrown into the dungeon?
. . . or is it because 'foreigners' are, in your view, insulting the Queen?
yes perhaps I was forgetting where I was.
You sound absolutely arrogant with your statement
......................................................
'nuff said

---
---
Similar Topics

Replies
Views

Last post
Users browsing this forum: No registered users and 0 guests