Hi everyone!
My bad that I took forever to come back to this thread - after returning back to work, it has been quite hectic & busy, hvnt had time to focus on this area of PS business, lol
As mentioned earlier, I want to post pictures of Dr kao's creation - i reckon his good work deserves a lil' publicity as I am pretty pleased (its been 6 weeks now) based on how the nose is taking form till date.
Before pic taken in August 08. After pic taken at 4 weeks -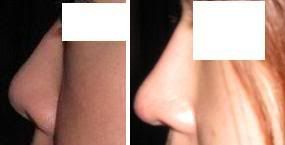 As you can see from my pics, I used to have an ugly upturn short nose (chao tian pi). Dr Kao has done decent work in lengthening my nose & concealing my nostrils. I am speculating that with further deswelling, my tip shld lengthen more & I shld be able to get a more prominent/lengthened collumella (pi-chu).
For the front view, I cant comment what is going on with the shape as I am swelling ALOT all around my tip, supratip. this is due to the bone shaving (removed hump & reduced height on my bridge) & the tip work. BUT the past 2 weeks, I have noticed my nose is smaller (which is great as I have been lamenting about my jackie chan nose since).
Right now, I am getting very impatient & really cant wait till my nose fully deswell so I can finally see Dr Kao's final 'surprise gift' = what kind of nose tip did he create for me, hee!
Those that know I did my nose, loves my new nose. Im actually quite astonished by their 'ooh-ahs' comments - my nose is still so swollen & they think its nice?!?!?! They claim they can foresee how it will look when it deswell (strange why I cant tell how it will end up). They also feel it is very naturally done/doesnt look fake & now they wanna go visit Dr kao too. & to those that I never told like my hairstylist, manicurist... i wore tinted glasses to visit them & they only noticed my double eyelid op, ha!
TO my
handsomepiglet
- hope you are healing well.
Happy Chinese New year to everyone here! HUAT for 2009!