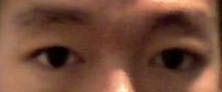 That's my original eyes when i am alert....but can get real droopy when i am tired.

This is how they look when i am tired...droopy....sleepy...

This is taken 9 days after surgery. Crease will very high and i dun like it at all...
Frankly speaking, i prefer my old eyes when they are not droopy
Honest opinion from forummers?
Nose-wise, last night suddenly all the swelling went down and look better than my old nose, but when i woke up today, it's back to the bulbous tip...
sigh, dunno how...still waiting for it to be constant and stay normal.
Think i look very fake now...crease too high, nose too big...
Maybe i shd have looked into the mirror and see the crease when nara was making them. Or maybe i shd have just did my nose like aadvark and my friend advised.