SINGAPORE EXPATS FORUM

Singapore Expat Forum and Message Board for Expats in Singapore & Expatriates Relocating to Singapore
Reporter

Posts: 899
Joined: Fri, 22 Jul 2005
Location: Simei
Contact:
It's late, but still funny. Was in the US when this phenomenon happened and then I forgot the website. Found it today!
Enjoy the Americans' creativity! 8)
http://www.sorryeverybody.com/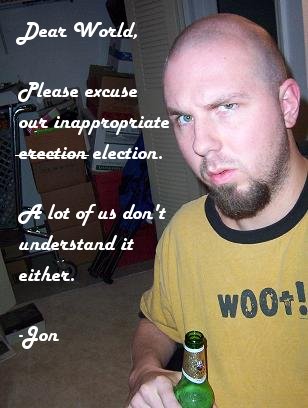 Goatboy will always cherish his former goatgirl.
But the world is full of fluffier ones.
---
Return to "Leisure Chat, Jokes, Rubbish"
Users browsing this forum: No registered users and 0 guests