SINGAPORE EXPATS FORUM

Singapore Expat Forum and Message Board for Expats in Singapore & Expatriates Relocating to Singapore
Moderator

Posts: 11381
Joined: Sat, 10 Jul 2004
Location: Off The Red Dot
Contact:
bgd wrote:It's not hard just time consuming. With mandatory theory and practical courses coupled with the wait time due to backlog it can take up to 6 months to get a 2B which allows you to ride up to 200cc (including that twist and go you refer to.) After a year and more training/testing (I'm a bit vague about that) you can qualify for a 2A. That's up to 400cc. Another year sees you on a 2, bikes of any size.

Quite a few people I know have given up or never started due to the time it takes.

Much easier if you can convert an existing license.
It is time consuming and HARD. Lots of people have to repeat sections because of the perhaps 'anal' approach the instructors take.
OTOH, there is no question you properly learn to ride a bike. Everything from proper footwork when coming to a stop, to being able to ride within a six inch width under control, to learning to stop on wet roads.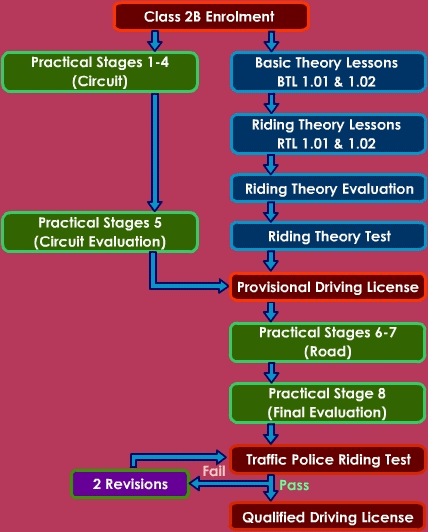 [/url]
---
Moderator

Posts: 11381
Joined: Sat, 10 Jul 2004
Location: Off The Red Dot
Contact:
DrPaulMasters wrote:I can ride, but only have the basic 50cc entitlement that came with my uk license.

is there a place that rents out twist and squirt scooters?
You need to have the equivalent of a class 2B (200 cc and less) or you will not be able to rent because of insurance requirements. You might find a small shop who would rent only because they wouldn't understand your license classification.
---
The practical parts and the test strongly emphasize on practical skills. How people absorb such things is very individual so for some it can be easy and for some difficult. To pass to the next stage and in the final test they time you, observe your posture and the sequence you execute some specific procedures (i.e. whether you switch off the signal first before putting your leg on the ground). Lots of things like this and not necessary intuitive. You can fail if your bike slightly wobbles when you start, for accelerating either too fast or too slow, for being short of 1s here or there, for revving the engine plus of course the cardinal things like not checking the blind spot and anything against the traffic rules.

The pass rate (final test) for 2B used to be ~50%, for the higher classes higher. There are some stages that are more difficult and it is not uncommon that people have to repeat them few good time before they are allowed to take the next one.

2A and 2 are much easier to get than 2B but there are still the same performance elements, only they have to be done better (8-figure in shorter time, longer stay on the narrow plank etc). And if you are a petite woman you still need to lift ~200kg motorcycle off the ground.
---
---
Moderator

Posts: 11381
Joined: Sat, 10 Jul 2004
Location: Off The Red Dot
Contact:
Good info, X92. My biz partner did the course... I listened to many play by play descriptions of the required performance... or one failed. For example, when coming to a stop, one must have left heel on the ground first, coming to a complete stop with full foot on the ground. Overrun, or fail to get the heel down to get flat foot at a stop and you fail.

Anal... and excellent... perfect control over a bike increases your margin of safety... and now that I am back in the USA, I cannot believe the number of Harley riders that dog paddle starts and stops... just waiting to become organ donors.
---
---
---
Similar Topics

Replies
Views

Last post
Return to "Cars & Motorcycles"
Users browsing this forum: No registered users and 0 guests