Buko Nero
is an unusual place by Singapore standards: very small, not flashy, no advertising, been around for years, yet they're always booked solid for weeks in advance. I've wanted to sample their fusiony cuisine for years and I finally managed to score a reservation, so it was time to check it out.
The place is tiny, just a slice of shophouse, with space for around 20 patrons, with stylish but not over the top black, white and silver decoration. It's run by three people, consisting of one chef and two waitresses, but service was pretty much perfect -- friendly, there when you need them, but not in your face otherwise.
The menu had about a dozen options ($18-32), but we both opted for the 5-course dinner menu at $48+, which turned out to be an excellent choice. The wine list is 100% Italian, with 6 wines by the glass (~S$15) and one page each of reds and whites ($60-120); we opted to start with the house prosecco (sparkling), which was quite good. Blow by blow:
Amuse-bouche
(off the menu):
Warm creamy porcini soup in a shotglass, intensely mushroomy and tasty. My dinner partner though it tasted like crab brains... which, by the way, is a compliment in her book.
First course
: "Momotaro salad with nori and umeboshi dressing"
Momotaro is an expensive type of Japanese tomato (S$6 a pop at Meidiya!) and the portion consisted of a quarter of one, with a pile of coriander, carrot and spring onion (?) next to it, drizzled with a very, very mildly plum-flavored dressing (the umeboshi) and a sprinkling of aonori, a dry, flaky seaweed actually unrelated to the common nori used for sushi wrapping. The combination worked quite nicely.
Second course
: "Green pea, asparagus and crab meat soup"
Ooh, this was a hit, smoothly blended creamy green pea and asparagus soup with big chunks of crab meat and a twist of pepper. Oddly, the taste resembled the porcini soup though...
Third course
: "Honey dew melon, mint and yuzu sherbet"
A palate-cleaning sphere served in a large spoon. Homemade, with a melon base, mint mixed in and dried yuzu sprinkled on top. Not bad, but a little... bland? I'm not much of a melon fan though, and my dinner companion liked it more.
Our prosecco was running dry by this time, so we ordered one glass each of the house whites, a not-too-sweet pinot grigio and a very unusual-tasting Planeta La Segreta Bianco, which was so smoky and oaky I thought they'd given me retsina instead.
Fourth course
: "Casarecci pasta with salmon and bottarga ragu"
This was a surprise. You'd assume "salmon pasta" would be cream-based, but no, this was a fairly spicy and complex tomato base that reminded me of puttanesca, with flakes of salmon mixed in and the bottarga (cured fish roe) thinly grated on top. Quite good, but a red wine would probably have worked better. And in case you were wondering (I was...), this is what casarecci looks like: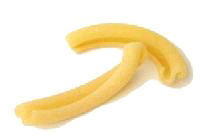 Fifth course
: "White chocolate and peanut cake, caramel coulis"
A flourless cake consisting of ground peanuts, chocolate and eggs, swimming in a pool of caramel. Tasty, but kind of over-the-top sweet, and a bit too much for my dinner partner.
Total damage
S$170
, nearly half of which was for the drinks, but we were fat and happy afterwards: fine dining in Singapore doesn't get much better than this. The fusion combos worked, the amount was neither too much nor too little, and service was impeccable. The set dinner menu is good value too, since a tasting course like this would easily set you back >$100 in most Singapore restaurants. We've already got our next date pencilled in... but we'll probably make use of the S$25 corkage and bring a bottle next time.